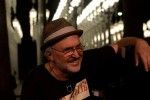 "Ignore the obvious and exaggerate the essential"
                                                                              - Vincent Van Gogh
Welcome to my website!
Pianist, Keyboardist, Composer, Arranger Theo Saunders has been on the international Jazz scene for more than 55 years and performed and recorded with a dizzying array of Jazz artists from Slam Stewart to Carla Bley. His career also includes extensive work in the musical spheres of Latin Jazz, R&B, Funk, Musical Theater, Dance and Opera.